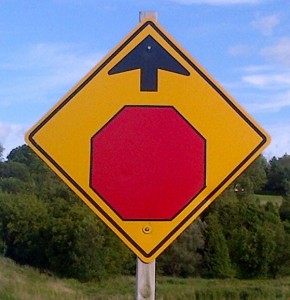 Sometimes God warns us to stop ahead. Don't barrel through – stop! If we're not listening we can end up crashing and wondering what happened.
Just because God gives us the OK to move ahead doesn't mean "move ahead forever". Sometimes we need to stop and turn. Sometimes we've missed the turn and need to go back to where God is leading us.
Just because we're picking up momentum doesn't mean we keep going. Perhaps God wants us to tarry awhile. Maybe He has a Divine Appointment set up for us.  Perhaps we need further instruction before we continue the journey.
God will give us the road signs to direct us. If we're watching and listening we'll benefit greatly. If not, we'll learn the hard way. God hates watching us learn the hard way because it breaks His heart.
He wants to lead us in the best possible way. Will you heed the signs?